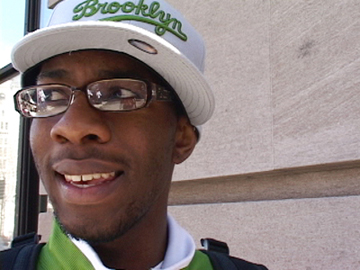 Our social and political landscape has changed dramatically, and unfortunately, during the Bush administration of 2001–08. As a result, the November presidential election seems to be one of the most highly anticipated, eagerly awaited, and critically important in years. in complete world is a feature-length documentary made up of street interviews done throughout NYC. Mixing political questions ('Are we responsible for the government we get?') with more broadly existential ones ('Do you feel you have control over your life?), the film centers on the tension between individual and collective responsibility.

in complete world can be seen as a user's manual for citizenship in the 21st century, as well as a glimpse into the opinions and self-perceptions of a diverse group of Americans. It is a testament to the people of NYC in this new millennium, who freely offer up thoughtful, provocative and at times tender revelations to a complete stranger, just because she asked.

Shelly Silver is a New York–based artist who utilizes video, film, and photography, More on her work can be found at http://www.shellysilver.com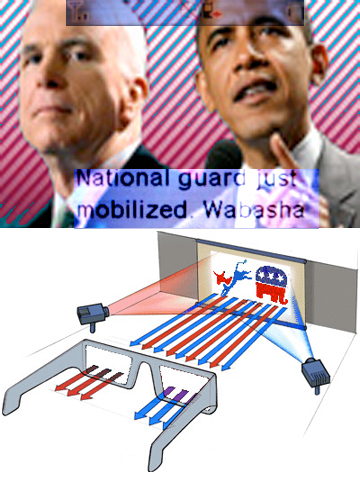 .Not to be outdone by the First Presidential Debate, video_dumbo presents Current and Twitter, who team up to create HACK THE DEBATE the very first integration of real-time Twitter messages (aka "tweets") over major portions of the live TV broadcast of McCain vs. Obama). For visual enhancement, video_dumbo will transform the Broadcast into 3D!
As Twitter users tweet (via the web and their phones) throughout the course of the live broadcasts, Current and Twitter will collect comments regarding the debate and layer the individual messages over the debate feed.
"This election will be one of the most massively shared events in history," says Twitter co-founder Biz Stone. "Experience has shown us that Twitter shines brightest during shared events. With 37 members of Congress, both candidates, groups of activists, and a nation of citizens all sharing their opinions and actions in real-time over Twitter, we have an opportunity with Current to add some valuable features to democracy."
In addition, the debate will appear in three dimensional space, based on a new polarized filter technique called Chroma-depth®. Ironically, this stereoscopic system is based on the colors RED and BLUE. Each object displayed in those colors will create the illusion of either protrude out of the screen, or retract behind the screen - creating a true stage for this political theater!
More information about "Hack the Debate" is at http://www.current.com/debate and http://www.twitter.com/current
We have the computer terminals, you bring your phones!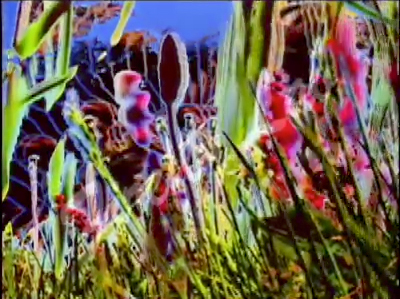 Lady Firefly (aka Zarah Cabañas) – Elegant and playful, Lady Firefly's live visuals mixes elements of nature with the oddball details of everyday into a cosmic swirl. Favorite NYC performances include Forward Motion Theater's EyeWash and Studio Sessions, Flavorpill's OSB at American Museum of Natural History, the River to River Festival, EyeBeam's Mixer, the Bunker, Tonic, RedEye, Issue Project Room; and the late late nites at Nublu, Lose Your Shit dance parties of Mean Red and $mall ¢hange, countless loft jams. Festivals in USA, Russia, Canada, Spain, Australia, 2008 resident of Experimental Television Center. Often in collaboration with VisualHornHonkinG, Dok Gregory, Zemi17, $mall ¢hange, and Paul Amitai.
www.fireflylab.com

VisualHornHonkinG - Brooklyn's bright and tricky mind stands behind multiple cultural activities worldwide. One of the pioneer users of LividInstruments video software and co-founder of MadFlat collective, Sima performs at Sullivan Room, Downtime, Pascha, Exit, Winter Music Conference, American Museum of Natural History, vBrooklyn Video Festival etc….Co-curator of the RedEye VJ/DJ series, VisualHornHonkinG is an unstoppable force. From nightclubs to museums to warehouses to galleries, studios & the streets of New York, his visuals capture minds and souls.
www.visualhh.com
www.madflat.com
$mall ¢hange (aka James Dier) will never stop. A musical addict, he's been collecting and DJing for over 15 years, has 10s of thousands of records, in every conceivable genre and time period. He's played alongside mofos like Diplo, Peanut Butter Wolf, the Slits, Shuggie Otis, Chuck Brown, Grand Wizard Theodore, Roots Manuva, DJ Traxx, ESG, and even fucking Sting. $mall ¢hange has two weekly radio shows, on WFMU (for well over a decade), and East Village Radio. He's played in festivals from France to Australia, and is a regular at Black Rock City (Burning Man). Recently after many years of collecting he's decided to make a few of his own records, edits and refixes for the Pure Fire and Bastard Boot labels, and an EP of original productions with DJ N-Ron Hubbard. Basically homeslice has been there / done that and continues to rock your little world. So step off!
www.djsmallchange.com
www.myspace.com/smallchange666